Mayo Debate Team will compete this Saturday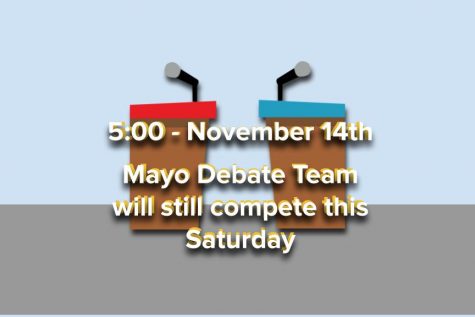 As of the end of class on Friday, it is official: the Mayo Debate Team will still be participating in Saturday's competition, November 14th.
According to the letter sent by Superintendent Muñoz to the families of the Rochester School District, the Minnesota Department of Health "states that if Districts move to Distance Learning due to county data/case rates and COVID-19 spread, all athletics and extracurricular activities will move to virtual only. This means that the debate is allowed to continue, since it will be conducted through video conferencing."
Debates start at 9:30 in the morning and end that afternoon, at 3:30, and each school that participates will do so from their own location. As a result, the Mayo debaters will be at Mayo High School, so as previously stated, the teams will debate over a video call. Unfortunately, spectators will not be able to attend.
As is the usual practice, the team does not know who their opponent will be until they arrive at the school for the debates, when the final decision is announced. However, the possible schools they will compete against include Stillwater, Mankato West, South Saint Paul, and Century.