All the city's a stage
Darien Hilmerson, Staff Writer
January 10, 2020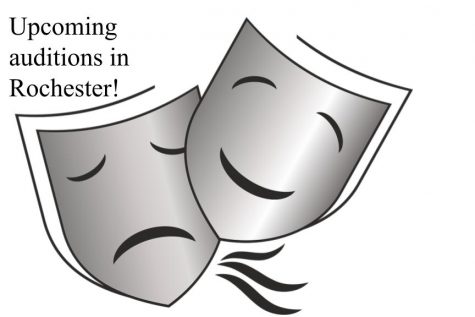 The city of Rochester and its surrounding towns are blossoming with theatre opportunities for every teenage actor. A new community theatre pops up fairly often now. For any high schooler looking for an audition that sparks an interest, one can be found without looking much further than a few miles. 
Stewartville Community Theatre is auditioning for Flash Gordon The Musical on Monday, January 13th at 6:30. Director Aaron Rocklyn says there are five main roles that are for teenagers. A short snippet of a Broadway song is wanted for an audition, but not required. Performances are March 6th, 7th, and 8th. Auditions and performances take place in Stewartville High School's auditorium. 
http://www.stewartvillecommunitytheatre.org/
The Rochester Civic Theatre Company is partnering with Rochester Public Schools and is inviting Mayo students to audition for Romeo and Juliet. Auditions takes place on Saturday, January 11th from 10:00 am to 2:00 pm. Auditioners must prepare a minute long Shakespearean monologue. Directed by Doug Scholz-Carlson, performances will be March 13th-29th. 
https://www.rochestercivictheatre.org/about/auditions
Not to be confused with the Civic's show, Once and Future Classics has auditions for A Musical Romeo and Juliet coming up on March 16th and 17th at 6:30. The company has the same director as Stewartville Community Theatre, Aaron Rocklyn, and the rules for auditioning are the same: a snippet of a Broadway song is wanted but not required. Many of the roles are open to teenagers. Performances are weekends between May 8th and 26th. Meet at the stage of Peace United Church. 
http://onceandfutureclassics.org/
Immersion Youth Repertory, directed by Misha Johnson, performs a musical every summer that is specifically for high schoolers. Auditions for Monty Python's Spamalot will be Saturday, June 6th, 10:00 am to 4:00 pm at the Rochester Repertory Theatre building. It is open to nontraditional casting, and all who register are cast. 
https://www.immersionyouthrep.com/
There are no other auditions announced at this time, but there are many more to come. There is still an amazing number of community theatres to consider. That Theatre Company, for example, is one of the newer theatres around the area. Directed by Blake Hogue, alumnus of Mayo High School, That Theatre Company's focus is "bringing new and contemporary shows to an audience that needs a good motivation to come spend $20 to see a play, over the dozen streaming services at home." All of the shows performed are written by Blake Hogue himself, and what sets this company apart from the rest is that it's professional; it pays its actors. https://m.facebook.com/ThatTheatreCompanyRochesterMN/?ref=page_internal&mt_nav=0
The Rochester Repertory Theatre (The Rep) is another great company, well-known around the area. It has been pumping out good quality shows for a while now, and is currently rehearsing for Screwtape. If you'd like to support the theatre and possibly see what it would be like to perform with them, performances of Screwtape are coming up soon on weekends of January 17th to 26th.
Absolute Theatre, directed by James Douglass, normally performs at either The Castle or The Rochester Civic Theatre. This is also a professional theatre that pays its actors. It is now rehearsing A Year With Frog and Toad, and its performances are January 16th to 26th. Absolute Theatre's mission is to "hone the art and craft of theatre and to present works, new and old, that entertain, challenge, and inspire audiences and ourselves."
https://www.absolutetheatre.org/
Upstage Theatre is a newer theatre in Stewartville with Olivia Cedotal as a director. They are currently performing The Great Gatsby, their performances being January 10th-26th. 
Calliope is a brand new company started up by Denise Ruemping, and Tommy and Audrey Rinkoski. They have not performed any shows yet, but an announcement is soon to be out about the mystery musical they plan to do in the summer.