Even with delay Powderpuff girls are ready to play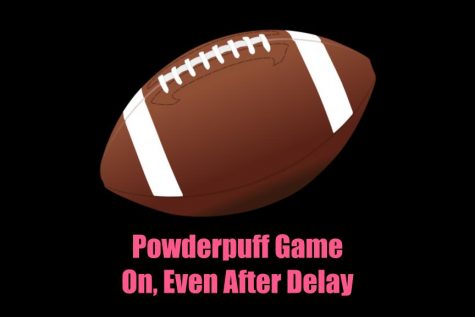 After a delay, the Powderpuff participants were ready as ever to show their girl 
power at seven on Wednesday October 9th at Mayo Stadium Field. With free admission and a special halftime performance from the Girls Soccer team, the game was promising.
Powder Puff is a nationwide trend involving female high schoolers playing each other in a football game. This year's competition is a battle between the juniors versus the seniors. The girls are hoping for a big turnout; "In previous years, many people of the student body show up, and we are going to advertise in hope many more show up this year," said junior captain Lily McBane. The team members have posted flyers announcing the game and the time change all over social media. They hope these will spread the word and encourage people to come out in large numbers, and see some fierce competition.
Each team has put in time and effort through three practices each lasting about an hour. Senior team player, Gavi Pena-Priem, said "it was really fun to practice with all these girls, and have fun together and laugh." The 30 girls participating have had been led by team captains and coaches, players from the football team. The senior team captains this year are Sydney Lichty and Amy Ramanauskas, while the junior team is led by Yezi Gusa and Lilly McBane. Each team had a coach from the football team to learn the rules and develop strategy; Marshall Peters and Mason Greseth accepted the role. The staff was all Mayo Student Government volunteers.  
Each girl paid fifteen dollars to play; the money was used to buy shirts and tie 
dye, while the rest of the money will be donated to GOFA. Last year Mayo raised more than 55 thousand dollars, so the donation will help beat last year's total. Just as in the past the Mayo Girls Varsity Soccer team will be performing at halftime. 
The team has been practicing for a few weeks and are really excited to 
perform. "It's a fun experience for us to be able to dance on the same field we play soccer. As you can guess, most of us don't dance for a reason," said sophomore Norah Murad. "It's out of our comfort zone, but it's been a fun bonding experience for our team." The dance team has been supportive of the show, particularly since a few of its members helped choreograph it. Grace Larson, Naomi Reinalda, and Quinn Rinden taught the team and helped them perfect the routine across multiple practices. 
Overall, the game will be an exciting event and with help display that anything 
the boys can do, so can the girls.