Trick or treating for a cause 
Halloween is a fun holiday full of dressing up, hanging out with friends, and getting candy, but what if on top of that, it could be about helping children who are in need across the world. Trick or Treat for UNICEF makes it possible to partake in a fun Halloween tradition while fundraising for children. The Vice President of Mayo's UNICEF Club, Haley Handleman is very excited about the upcoming activities and says that it is one of her favorite events of the year. Trick or Treat for UNICEF is an annual tradition that has been around since 1950. Handleman says, "It's been around forever; my father remembers doing it when he was a kid in the 70s and 80s." 
This year's Trick or Treat for UNICEF is comprised of three parts: trick or treating, partnering with local elementary schools, and the "Trick or treat Dash." First, the general event of trick or treating can be done by anyone. All you need to do is gather up change from your car, your friends, or your junk drawer; otherwise, you can partake in the long-standing tradition of trick or treating, going door-to-door and asking for donations. If you want to be extra festive, you should grab a UNICEF box from any UNICEF club officer or from Mrs. Stegenga's room (2-220).
Next, the UNICEF club partners with local elementary schools in an effort to raise funds for the children in need. Last year, Handleman remembers partnering with 4th grade classes at Bamber Valley. All of those classes competed to see who could raise the most money, and the winners received a root beer float party. This year, Handleman hopes to partner with more schools. 
For the first time ever, Mayo High School's UNICEF club will be hosting a Trick or Treat Dash on October 27th at 11am at Door 6. Club members and anyone else who wishes to participate in this event will divide into teams to compete to see who can raise the most money from going door-to-door in neighborhoods around Mayo High School. 
    In addition to the fun of going door-to-door, and competing in events like the Trick or Treat Dash, the club will connect with community members and local businesses to raise awareness about the club and its cause. In fact, one or Handleman's favorite parts of her position as Vice President involves interacting with community members and working with local businesses, as well as connecting with kids, especially elementary school students. She emphasizes the importance of "kids helping kids."
    The real importance of these events lies in the mission statement of UNICEF; "UNICEF is mandated by the United Nations General Assembly to advocate for the protection of children's rights, to help meet their basic needs and to expand their opportunities to reach their full potential." The money we collect from these events goes directly to projects that help kids get access to education, safety, clean water, housing, food and so many more essential things. An important question to ask is "Where does the money we raise go?" Handleman explained that with any fundraiser done by a UNICEF club, they have the opportunity to choose a certain issue for their funds to go towards. Some examples are women's education, refugee crises, or clean water. They can also send the money to UNICEF as a general donation. In fact, at a recent summit that Handleman attended, UNICEF leaders emphasized the need for general donations so that UNICEF can fund these underrepresented causes. As a result of this, the money we raise will go to UNICEF as a general donation, and will help children somewhere in the world. So why not celebrate this Halloween feeling good, helping kids, and having fun!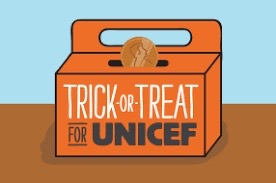 For More information, come to the UNICEF meeting in room 2-220 at 7:15 am on October 24th, or visit Mayo UNICEF's Instagram @mayounicef or their website: https://www.unicefusa.org/trick-or-treat.