Farewell Ms. Smith
Hang on for a minute...we're trying to find some more stories you might like.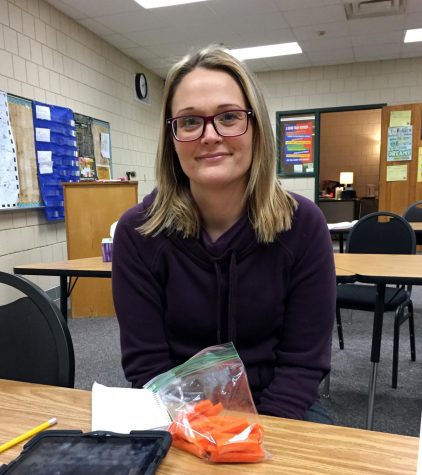 Mayo's School Within a School (SWS) teacher, Ms. Smith is resigning this year after working here for eight years. Her journey at Mayo has been a unique one. She started as an emotional and behavioral disorder (EBD) teacher, then she would eventually take the position as the first lead teacher of SWS, a program that began in 2015.
    Ms. Smith has been fully dedicated to the class's mission of helping students succeed. Remembering how the program came together four years ago, she states, "I really wanted to be a part of the program, because I would be able to help the kids that were just falling through the cracks." According to some of her students, that is exactly what she has done. There's no question that she has had an impact on her students; Ian Durigan says, "Ms. Smith completely changed my life. I don't know where I would be today if I had not been selected to be in her classroom." Those who know Ms. Smith, know that she is quite modest. She doesn't hunt for credit or notability when it comes to her work. However her students say that she has a large amount to do with their success.  
    Ms. Smith strived to be a teacher of change. She helps us realize that when it comes to student support, staying the same means growing stale, which won't lead to success; "I would like to see a revolution within every school. I want to see every student get the support they need with any issue they may have." She is very passionate about students who are going through tough times, saying, "every student is capable of succeeding with the right amount of help." She has also done a great deal of experimenting with education by giving her students a different environment to learn in. Most students are used to the usual desks and chairs, but Ms. Smith's students can look forward to tables formed in different shapes with a comfortable chair to sit in. She also has yoga mats and essential oils for students to use. All of this creates a calming, relaxing atmosphere that helps people focus and succeed.
    This summer Ms. Smith is moving up north to Two Harbors, MN, where she is planning on going back to her roots as an EBD teacher. Mayo would like to send her our best regards on her future endeavors. She will be missed by all of her students and fellow teachers. So if you see her in the hallways or you have a free minute, stop by her room and wish her luck on her next chapter.