Mayo Bowling Team: Mid-Season Report
Mandy Week, Staff Writer
October 12, 2018
Hang on for a minute...we're trying to find some more stories you might like.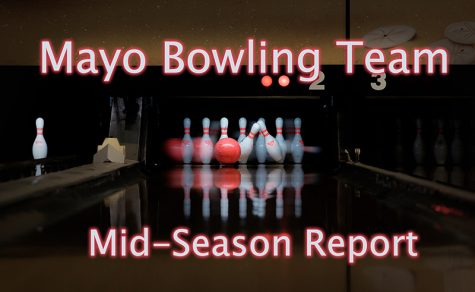 One of the least celebrated organizations here at Mayo High School is the Mayo Bowling Team, although based on this year's season, there is definitely some to be recognized and praised. Last year for the 2017-18 co-ed season, Mayo's JV bowling team won their conference roll-off at the end of the regular season and advanced to the State playoffs, and the season prior, both the varsity and one of the two JV teams qualified for State. In recent years, the team has been having very successful seasons, but the 2018-19 season has proven to be one of the best ones yet.
In the Minnesota High School Bowling League's Southeast Conference (West), eight varsity teams and ten JV teams compete to be the best. Roughly 130 bowlers battle each other for the highest scores and even higher honors. As of early October, the season is roughly halfway done, and right now, both the Mayo JV and Mayo Varsity teams are ranked as first place in their conference. The varsity currently holds a record of 7-2, and the overall team average stands at an impressive 184.56. Likewise, the JV team also has a record of 7-2, with a current average of 155.11. Not only have these excellent statistics landed them in first place in their conference, but it has also allowed the teams to rank amongst the best in the state, the Mayo Varsity ranking 17th and the Mayo JV ranking 10th.
Based on the outstanding records and team statistics, it is evident that the Mayo Bowling Team has accomplished very much this year, and one of the main reasons is due to the hard work of the bowlers themselves. The Mayo team includes 13 members: seniors Mike Bigalk, Cody Gerdts, and Michael Pyse, juniors Josh Domnick, Zach Dukart, Aziza Moore, and Cameron Stenzel, sophomores Robert Dawson, Aiden Larson, and Mandy Week, freshman Jared Dalluge, eighth grader Jordan Timbeross, and seventh grader Wyatt Honecker. Statistically, this has been an incredible year for bowlers individually too. Of the seven on the JV team, four of them rank among the top 101 bowlers in the state, including Zach Dukart, Wyatt Honecker, Cameron Stenzel, and Jordan Timbeross, while one of the six members of the varsity team, Michael Pyse, ranks amongst the top 101 varsity bowlers as well.
All in all, this season has thus far been superb for the Mayo Bowling Team. Thanks to all of the bowlers, coaches, parents, and supporters, the team has been able to achieve a great amount this year. With only a couple of matches left in the season, the teams hope to continue their strong performance in the hope of claiming the number one seed for their conference roll-off in November, and from there, hopefully become champions and advance to the state tournament this winter.