A more-than-OK experience with The OK Factor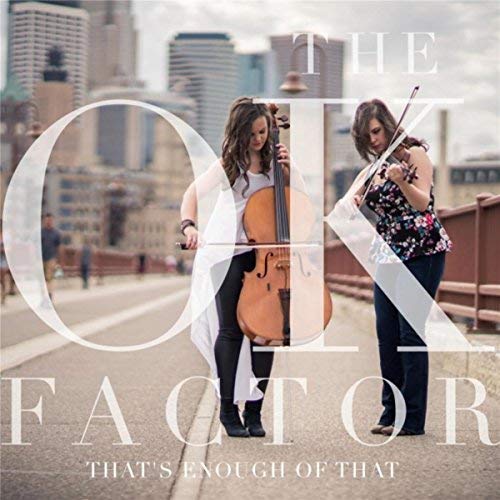 Kristen Lee, Editor
October 12, 2018
This week, the Mayo High School orchestras had the opportunity to play and workshop with new-classical crossover string duo, The OK Factor. Based in Minneapolis, Minnesota, cellist Olivia Diercks and violinist Karla Colahan are passionate about composing, performing, teaching, and sharing their music with the world. Their original compositions have both a comfortingly familiar and uniquely fresh feel, with a musical style incorporating influences from folk music. Their passion for education has driven them to conduct many student workshops across the U.S., leading to their new education initiative ATLAS. Under this program, The OK Factor provides teacher lesson plans and student leadership opportunities, inviting students to use their instruments in a creative and innovative way.
This week, the string duo visited several schools in the Rochester Public School district, including Mayo High School. They held workshops that included exercises in unconventional playing techniques, rhythm and harmony work, and improvisation, all features characteristic in The OK Factor's musical style. Students were able to expand their musical knowledge, learning skills that they can use going forward in their musical careers.
Next Tuesday (October 16th), there will be a combined concert at the John Marshall High School auditorium at 7:30 p.m., featuring all the orchestras that The OK Factor worked with. Mayo High School's orchestras will play in conjunction with ensembles from Fridell Middle School, Kellogg Middle School, and John Marshall High School. In the concert, students will showcase a piece that they worked on with The OK Factor during workshops, and they will incorporate the skills learned, including percussive techniques, harmonization, rhythmic variance, and improvisatory solos.
Making music with classmates can be enjoyable, but studying with professionals provides a whole new realm of inspiration. Playing with The OK Factor was a special opportunity that opened the students' eyes to new forms of expression and a greater sense of art. These students are definitely hungry for more. In the meantime, they can experiment with their own techniques, breaking new ground and furthering their passions for music.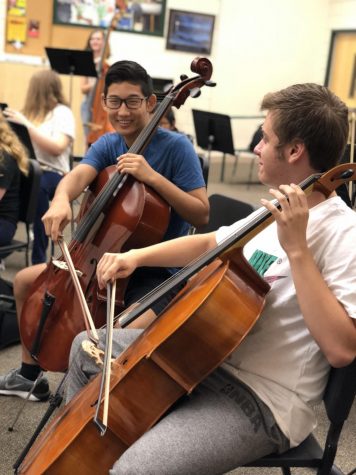 While leading the cello section, (l-r) Alex Lee and Julian Rutten have fun experimenting with improvisation.