Mayo High School students get together for change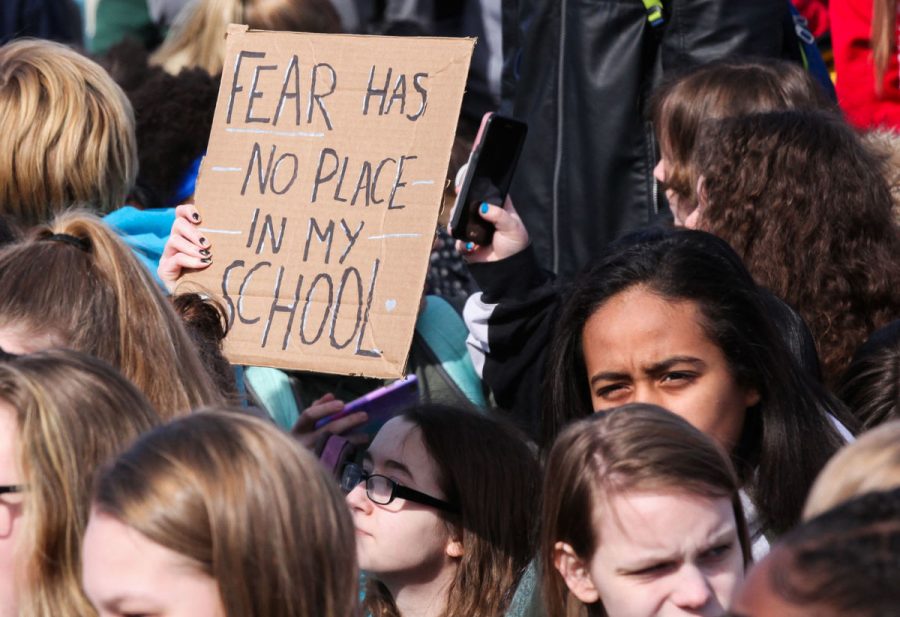 On February 21st, the first school day since President's day, over one hundred Mayo High School students walked out at 12:00 noon to protest lax gun laws and continued gun violence in schools. Many wore orange to symbolize their support, and some held up signs bearing slogans such as "I HAVE THE RIGHT TO A SAFE EDUCATION" and "PEACE ON EARTH."
The original plan was to stay outside for seventeen minutes to recognize the seventeen victims of the most recent school shooting, which occurred in Parkland, Florida. However, as people began to speak one at a time on their feelings about gun violence, particularly school violence, the peaceful protest stretched longer. Initially, students sat on the ground and took a moment of silence for those victims, and then people took turns speaking.
"I have two siblings in elementary school… They had to learn how to hide in case of a shooter in the school," said junior Andy Ruggeri, "We all have siblings, we all have family we want safe." Other students expressed fear, sadness, and anger, calling for stricter gun laws. Junior Ashley Pheneger said at the protest, "It's sad that our dress code is more strict than our gun laws," met by clapping and shouting.
Anyone knowledgeable about the event prior to its occurrence told others, and made sure the presence was peaceful but firm. For a time, students came together to chant "Kids not guns" and other slogans in unison.
As the protest went on, more shared their stories and inspirational words, including small speeches about coming together and being the change. Senior Priya Verma shared her words "Kindness not violence," and passed out small slips of paper bearing kind and affirming slogans with only the instructions to pass them on to those who need it. At the very end, one student called for everyone to hug someone next to them, pushing the agenda of kindness and community. After this, many teary-eyed, students returned inside to regroup briefly before going back to class. Century and John Marshall also held demonstrations.
In the wake of the Parkland shooting, high schoolers across the country are holding walkouts and protests, and today Mayo High School showed those peers that they are not alone.