Mayo Wrestling breaks the chain of mediocrity
Hang on for a minute...we're trying to find some more stories you might like.
Mayo High School wrestling is expecting one of their best seasons in a long time. With Mayo's roster being a mix of veteran wrestlers that have the sport engraved in their DNA and  new young athletic wrestlers, willing to do whatever it takes to get the win for Mayo, this team has nowhere to go but up. Mayo had a recognizable season last year, with a team record of over .500 and going to the third round of sections until taking a loss to Faribault. Looking through the roster, many from the varsity line up are returning starters from the previous year.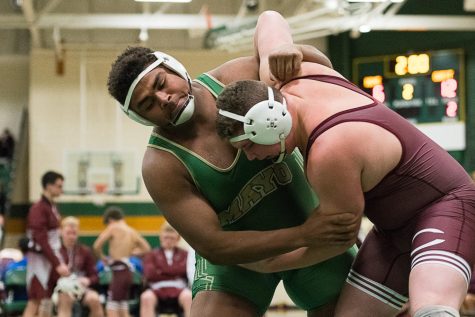 Change is a big word this year for the Mayo Spartans. Their focus has changed a great deal, which is mostly due to their head coach Art Trimble. Considering the program years ago, it was nothing like it is now. Trimble always focuses on progress; there is always room for improvement.  A team can't be satisfied with where they are, and Trimble knows that. He has implemented major changes to the team, including "'The Pin Chain." Whenever a wrestler gets a pin in a team varsity match, they put on a big chain with a flashy letter M attached to it. This is to motivate the wrestler to get more bonus points for team overall.
Senior Carson Ties is the team captain and expects nothing but great things from his team this year. Carson says the goal this season is to be at least among the top three in the conference. When asked about the year to year difference, he confidently replied, "The mentality has changed completely; the work ethic and will to win are there. When you walk into the practice room, you can just feel the intensity." Some big names expected to make a splash this year are Noah Carter, currently ranked 7th in state, Marshall Peters returning from state last year who is also ranked 7th, Carson Ties, and Cade Sheehan.
Mayo's Wrestling has been consistently average for quite awhile. Top tier teams in the Big Nine like Albert Lea and Owatonna have been nearly impossible for them to beat. Every year, though, Mayo has been taking major steps forward. The problem wasn't that they haven't had good wrestlers in their program; it's been making sure the roster was full with consistently good wrestlers, without any holes in the lineup, and now they have exactly that.