Battlefront 2: A beautiful game in progress
Hang on for a minute...we're trying to find some more stories you might like.
Star Wars Battlefront 2 brings all the elements of Star Wars and Battlefront 1 to the gaming world. Whether you're flying a TIE fighter, hearing one scream above you, playing as a Sith Lord, or a Jedi Knight, playing Battlefront 2 brings the player closer to a true Star Wars experience than ever before. Although
 the game has many areas that are still in need of development or updates, every aspect of it has a chance for redemption and the possibility of bringing the best to the fans.
Game Life – EA and Dice, the makers of the game, decided to add more options for play, including offering a more expansive multiplayer and single-player campaign. The new extensive multiplayer features allow players to interact as different troops and heroes from all eras of Star Wars including legendary characters such as Darth Maul and Yoda. The two biggest game modes that multiplayer offers are "Starfighter Assault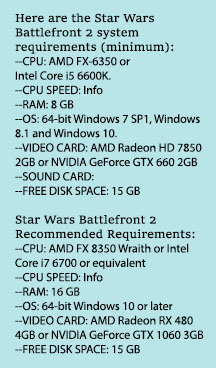 " and "Galactic Assault." Starfighter brings players into deep space around the world of Star Wars in 24-player battles. Galactic Assault brings a total of 40 players together to battle in objective-based scenarios all around the galaxy of Star Wars.
Features – Players are allowed to choose from new and old ships or add their own customized options. A new in-game point system rewards players with special abilities, gear or war vehicles for earning points in the battle. Some options to choose from include things like taking control of an Imperial AT-AT or piloting a TIE interceptor all the way to being able to play as a hero like Luke Skywalker or choosing to be a rocket-trooper.
Graphics & Requirements  – The graphics on Battlefront 2 are significantly better than the original Battlefront, particularly since this game is compatible with 4K TV's and gaming consoles. The game is compatible with both the PS4 and Xbox One. A pc version requires certain levels of storage and pixels. .
Concept & Controls – Although many gamers have loved Battlefront 1's gameplay, this new game is very fun but also very difficult, as it gets pretty realistic when you are plunged into a 40-player battle with all sorts of vehicles, ships, and troops involved in the fray. Another thing that increases the difficulty could be the control settings. Each player has the freedom to dial in the level of difficulty to bring the challenge to the intensity he desires. This can definitely help increase the fun.
One of the new features in the game is a single-player campaign following the Imperial special forces commander and the leader of Inferno Squad, Iden Versio through her story in the war against the rebellion. Although the campaign received some criticism for the shorter length and missions, it definitely delivers on amazing graphics and a great story to tell of a loyal commander turned rebel because she herself could not take the power of the Empire.
Overall,
Battlefront 2 delivers more and better content than its predecessor including better graphics, playable heroes and troops, in game loot, as well as waypoint systems to fully immerse the player in a truly awesome Star Wars experience.