Mayo's own world traveler
Hang on for a minute...we're trying to find some more stories you might like.
 There's a shocking variety of cultures around the world, and to experience more than just our own is something special. Stefano Hritcu, a student new to Mayo this year, came to us all the way from Italy.  

His family moved here because of opportunities that the Mayo Clinic offers.
Coming from a town near Milan, 20-year-old Stefano notes that schooling in Italy is vastly different from that in America. There are more years required for Italian students to graduate, and this year Stefano will be able to graduate with his senior class in June.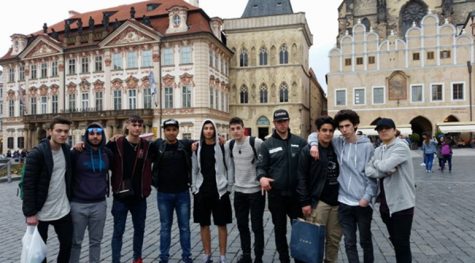 He is interested in playing basketball for Mayo and has played for about three years previous to this. Stefano also likes to travel. Other than living in both Italy and America he has been to Spain, France, Germany, Greece, Egypt, and Romania. His two favorites are Spain and Egypt. Spain, he says, is really fun and full of good places to eat. Egypt has a really unique culture of people, and he likes the type of wildlife there, especially the camels.
For now however, he will continue out the rest of this school year with us all at Mayo High School and get the full American high school experience.