The People's Stand: An Event of a Lifetime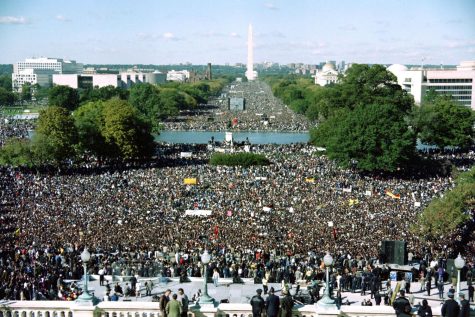 The Million Man March took place on October 16, 1995, in Washington, D.C., and served as both a celebration of African American pride and a call to action for greater Black community engagement (History.com).
The Nation of Islam's leader, Louis Farrakhan, was at the forefront of this demonstration, which managed to draw hundreds of thousands of African American men to the nation's capital. This march had two goals. Its main objective was to motivate African American men to take a proactive approach to addressing problems that afflicted their families and communities, such as economic hardship, unemployment, and violence, but it also served as a publicity campaign to fight against negative racial stereotypes (Wikipedia.org).
An online supporter R. Lewis noted that, "The million man march for change would have never happened if a million men did not see that the way they were being treated was unjust," which focuses on how a terrible lie can be resolved by simply realizing the truth and enabling it to reach many more, like the Million Man March did (goodreads.com).
As previously stated, the march served as a political power play as well as a symbol of African American men's perseverance and unity. The event's mood was calm and unifying, in stark contrast to the tumultuous and polarizing racial conflicts that had come to define most of the country's history. This provided an opportunity for African American men to band together in collaboration and mutual support, marking a watershed moment in the future of racial relations in America (wikipedia.org).
The Million Man March, on the other hand, also had its hardships and was not without its critics, particularly those who saw it as excluding women and other minority groups. Despite this, the protest is a powerful symbol of political activism and African American pride. The Million Man March had an impact that went beyond the African American community (cnn.com).
Beyond American borders, its message of accountability, cooperation, and equality found resonance and served as an example for disadvantaged groups all over the world. The protest served as a call to action for people to take control of their own lives and work to build a more just and equitable society. Positive assumptions and prejudices regarding African American men were also encouraged to vanish by the impact (aarp.org).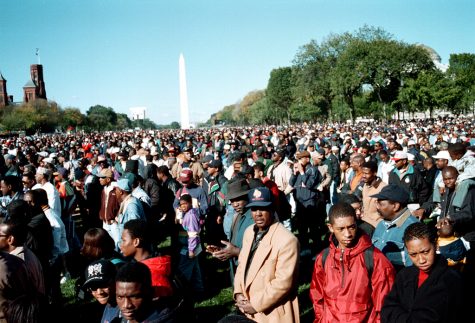 The march opposed the negative and stereotypical depictions of African American men that are frequently portrayed in the media by portraying a good and responsible image of them. This has paved the way for more inclusive and diverse representation in media and culture and has served to build a greater understanding of and respect for African American men (aarp.org).
The Million Man March was a historic occasion that has inspired and influenced marginalized groups worldwide, far beyond the African American community. It stands as a tribute to the strength of group effort and the transformative potential of nonviolent protests since its message of hope, unification, and activism is still as important now as it was in 1995. 
Citation Information: 
Article Title: Million Man March
Author: History.com Editors
Website Name: HISTORY
URL: https://www.history.com/this-day-in-history/million-man-march-1995
Publisher: A&E Television Networks
Original Publish Date: September 21, 2021
Your Access Date: February 2nd, 2023
Article Title: Million Man March
Author: Wikipedia Editors
Website Name: Wikipedia
URL: https://en.wikipedia.org/wiki/Million_Man_March 
Publisher: Wikipedia
Original Publish Date: February 22, 2023
Your Access Date: February 24, 2023
Article Title: A quote by R. Lewis
Author: R. Lewis
Website Name: Goodreads
URL: https://www.goodreads.com/quotes/620810-the-million-man-march-for-change-would-have-never-happened 
Publisher: Goodreads
Original Publish Date: N/A
Your Access Date: February 24, 2023
Article Title: A look back at the Million Man March, 25 years later
Author: Leah Asmelash
Website Name: CNN
URL: https://www.cnn.com/2020/10/16/us/million-man-march-25-year-trnd/index.html#:~:text=Friday%20marked%20the%2025th%20anniversary,Al%20Sharpton 
Publisher: CNN
Original Publish Date: October 16, 2020
Your Access Date: February 24, 2023
Article Title: The Story Behind the Million Man March – Civil Rights, Slideshow
Author: Cheryl Bond-Nelms
Website Name: AARP
URL: https://www.aarp.org/politics-society/history/info-2015/million-man-march-story-photo.html#slide1 
Publisher: AARP
Original Publish Date: October 01, 2015
Your Access Date: 
February 24, 2023
Images:
File name of image: 201015201814-01-million-man-march.jpg 
Original source link: https://media.cnn.com/api/v1/images/stellar/prod/201015201814-01-million-man-march.jpg?q=x_3,y_49,h_1684,w_2993,c_crop/h_720,w_1280 
File name of image: Million_Man_March_Washington_DC_October_16_1995.jpg
Original source link: https://www.blackpast.org/wp-content/uploads/prodimages/files/blackpast_images/Million_Man_March_Washington_DC_October_16_1995.jpg