Black Friday and Cyber Monday deals not canceled; shopping looks much different
Adrian Highet, Staff Writer
November 30, 2020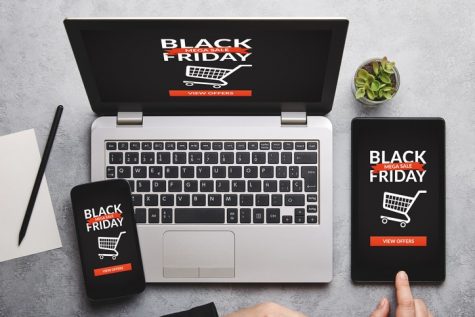 It's the week after Black Friday and many people were able to see how retail stores dealt with the precautions to sales and COVID-19, but that doesn't mean the deals are over, because today is Cyber Monday, more popular than ever, and even with extended holiday shopping times!
You are probably curious as to how the pandemic is going to affect holiday shopping, which is clearly different from past years. From earlier Black Friday sales to a much bigger focus on online shopping, deals abound, but availability can be strained as more customers choose this method.
That said, this year deals have been announced and released a whole month before the day after Thanksgiving, and will continue to be out there for most of December, so don't give up on shopping; many stores are still offering reduced prices.
The Black Friday sale that many people know about, has been characterized by long lines, crowded stores, and shoppers hustling for deals. Because of what Black Friday is known for, it makes the holiday season especially complicated for all retailers this year. Not only do they have to worry about keeping all customers and employees safe, but also better hygiene protocols, and the change of hours that the stores have converted to, because of the pandemic. 
According to Macy's CEO Jeff Gennette the success of Black Friday 2020 hinges on retailers' offering a longer holiday shopping period and leaning into digital in a big way. 
"We expect it to start in full force after Halloween," he said in a recent call with investors. "We have a very strong game plan about how we're going to keep this trend of digital going. That's going to be huge for this holiday season."
How exactly are stores selling their products?
Stores are announcing what the holiday sales events will look like this year. Here is what a few major retailers have confirmed so far.
Retailers have been keeping their plan of attack more of a secret this year, with most stores remaining closed on Thanksgiving Day. One thing we do know for sure is that companies are hoping to avoid the crush of customers that crowd stores on the Friday after Thanksgiving.
Best Buy, Walmart, Home Depot, and many other major retailers will be making pick up orders easier than ever throughout the holiday season, including contactless curbside pickup, same-day, and next-day deliveries, pick ups at local UPS Stores, and pickup-in-store options. Many are announcing that deals will be available all the way into the new year. 
On top of that, businesses are hiring seasonal workers for distribution of all the products and to offer a better online shopping experience. Check when you order because some stores are offering free delivery, particularly when you've spent up to a certain amount of money.
How should you shop during the Holiday Season?
We already know that holiday shopping  is going to be something like nobody has ever experienced before, and Cyber Monday will be bigger than ever. How exactly should you shop this year? In addition to shopping online, you can also follow these few guidelines:
Preparation is key – be sure to sign up for any email lists you want to be a part of. Once you start getting emails, you'll get promo codes and coupons to save for your upcoming purchases.

You'll want to shop early and act fast. With retailers putting these deals out earlier than ever before, you will want to jump on the deals fast, to ensure you get the deals you want, because they only have a limited supply.

Finally, don't forget to do your research online. Looking at comparisons online could lead you to even better deals and even reviews of the product in your shopping cart.

Many shoppers are using a website called "gottadeal.com," which shows ads of every store in your state and brings you exactly to the website to buy the items you want. Not only does it show Black Friday deals, but also shows other holiday offers, coupons, and even deals that are in stores every single day of the year.
What does all this mean for Cyber Monday?
Cyber Monday was the biggest online shopping day of the year last year, but in 2020, it's going to be even bigger:. "Black Friday has been losing its clout for years. The coronavirus pandemic could be what finishes it." – Gabby Jones
The point of Cyber Monday is to persuade people into shopping more online, rather than in stores. Wth the pandemic surging, consumers need little impetus to do just that. 
Donlan, Kirk. Boost Your Black Friday 2020 Sales With These 3 E-Commerce Tips, 2 Sept. 2020
Picture: image.freepik.com/free-vector/black-friday-cyber-monday-vertical-banner_73458-625.jpg