Have drum, will battle for GOFA
John Weisenbeck, Staff Writer
December 9, 2019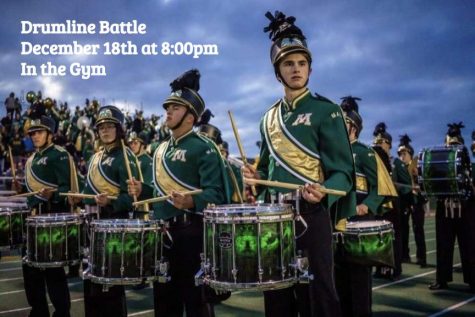 There's nothing quite like the sticks and clicks of the Mayo Drumline. Everybody knows that when that tap-off starts, it's about to get hype. It's go time for GOFA at Mayo High School, and there's no other event quite like a classic "battle of the bands," although, in this case, its battle of the drummers, or simply the Drumline Battle. 
This unique experience and money-raising night combines the talent of all three of the Rochester Public High Schools, Mayo, John Marshall, and Century, along with the hype and excitement of all three student sections, and of course parents and staff, in a night filled with fun beats and time with friends. The main event starts at 8 pm on December 18th, and all are welcome. Tickets are $3 before and $5 at the door of the Mayo Auditorium. Whether you're a passionate musician, or just want to have a good time and enjoy the experience with friends, it's always bound to be hype, and the musicians are sure to have you tapping your pencil the next day in class. 
This year, Mayo hosts, so you don't have to dread walking through your arch rival school's hallways. This event also raises plenty of money for our charity fundraiser in the month of December. It's undeniably one of the most exciting times of the season for just about anyone. 
Make sure to save the date to experience classic drum beats such as snoop, mortal boogie, and so many more!