Post your art for GOFA
Alexa Jacobson, Staff Writer
December 9, 2019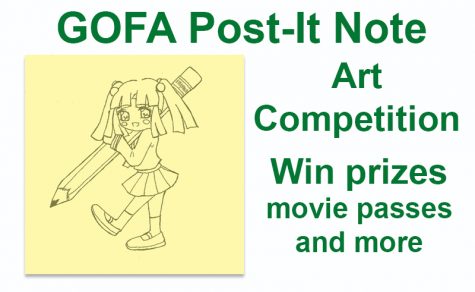 Do you doodle? Are you an artist? Do you like to draw? Here's your chance to put your talent to use for GOFA. The Post-It Note Art Contest allows individuals to show off their artistic flair and win prizes in the process. Simply draw something with pen or pencil on a 3×3 Post-It note, and bring it to Mr. Perry with a $1 donation for the GOFA campaign.
You have until Tuesday, December 17th to submit your entries. All artwork will be displayed in front of the art room classes on the first floor on Wednesday the 18th. All the rules can be found on any of the posters displayed around the school.
Winners will receive movie passes to Cinemagic, with vouchers for popcorn and a drink. Beyond that, the winning artists' art will be featured on the Mayo Advocate website. 
Content should not be objectionable to Mayo High School rules of appropriateness; however, you are not required to follow a particular theme for the art you make. You may also submit as many drawings as you would like, but you have to pay for each entry. Make sure to bring exact change to room 2-248. 
So sharpen your pencils and get ready to compete for a worthy cause.