It's a festive dress-up time
Bryce Baker , Staff Writer
December 6, 2019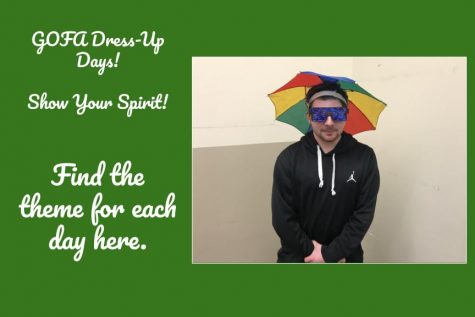 December is a great time to be a Spartan, as we embrace the season of GOFA, the time for giving; all the students at Mayo High School love to participate in the many different activities because raising money as a school helps create a sense of community. Part of that spirit involves the fun of dressing up each day based on different themes. Even if a Mayo Spartan doesn't have that much money lying around they can still participate in the festive dress-up days. Who doesn't love to dress up and be goofy? It's also very fun to see everyone's creativity shine in the halls.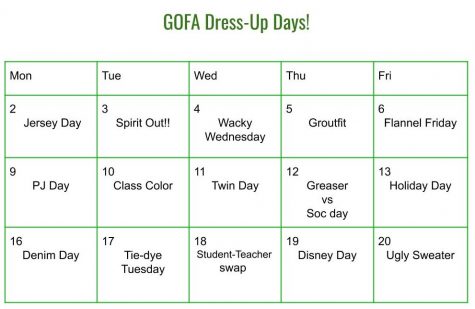 What kind of costumes are they wearing? Here is an explanation of each of the themes decided upon by the student government and our administration. 
The dress-up days for week 1 are fun and comfortable. 
– Monday is jersey day; anyone can come to school in their favorite jersey. 
– Tuesday is a spirit out; students wear green and gold for Mayo's school colors. 
– Next, we have Wacky Wednesday wacky, which should be interesting and creative since everyone has to wear odd, crazy, mismatched outfits, including strange socks, bizarre britches, or hilarious hair. 
– Thursday is groutfit day, which involves GRay Outfits, so students wear all their gray clothing. 
– Finally, we have Friday Flannel, so students should make their best lumberjack impression. 
Week 2 of the dress-up days start with comfort.
– Pajama Monday has students wearing their comfiest sleepwear. 
– Tuesday is class color day, when the student government assigns each class a color to wear, from head to toe. 
Seniors wear black. Juniors wear white. Sophomores wear blue. Freshmen wear red. Staff wears green.
– Wednesday is twin day. Everyone should find a friend to dress up as twins with. 
– Thursday pays tribute to The Outsiders with "Greaser vs Soc." day. Students can wear outfits from the classic outsiders movie. 
– Friday focuses on the holiday, so everyone should wear clothing from any or all of the holidays that they enjoy. You could wear a pilgrim hat, a fourth of July shirt, Valentine-covered pants, and St. Patrick's Day emerald shoes.
Finally week 3 wraps up the dress up days with style. 
– Monday is denim day, so wear jean jackets jeans, mom jeans, jean shirts, disco jeans, jean hats… heck – jean shorts if you want. 
– Tuesday finally brings tie dye day. Students can wear tie dye clothing, and if they bought a tailgating shirt they can wear that. 
– Wednesday student/teacher swap. Students can dress like teachers and teachers can dress like students. 
– Thursday is Disney day, so everyone should dress as their favorite Disney character. 
– Friday, the final day of GOFA, brings us the notoriously bizarre stylings of ugly sweater day. For this final fashion frenzy, everyone wears their ugliest holiday sweater or any sweater they think is ugly and creative. Accessories like lights, candy canes, dolls, mirrors, pugs, and glitter are highly encouraged, because at the last pepfest, there will be an ugly sweater contest, which you may win.