Homecoming's biggest day: Friday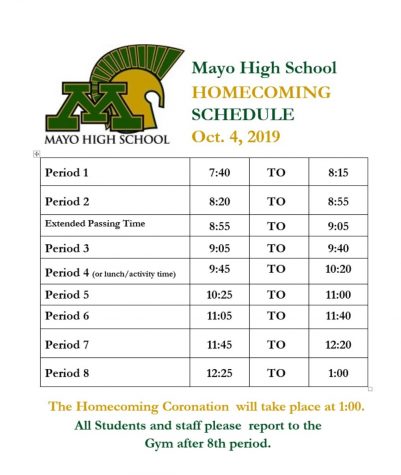 It's the final school day of Homecoming; everyone is happy and getting ready for the big game against our crosstown rival, the John Marshall Rockets. With the dance the next day, we want all the positive energy to follow over to the dance as well, but for now, the focus is on all that will take place from sun-up to sundown on October 4th.
Here is a copy of the schedule for Friday, and these are the highlights. Homecoming 2019
The Homecoming pepfest will start after 8th hour, at 1:00 pm. All students and staff should report to the gymnasium to make it the best experience possible. Tailgating captain Mason Madsen said that during the pepfest, "Everyone should be as hyped as possible. Homecoming week only comes once a year. The pepfest is only one day a year, and I want people to realize how cool Homecoming is. We can make it even better if everyone goes all out."  
During the school day classes will be shorter than usual. It will also be a spirit out all day but especially at the game. "I want to see everyone dressed in spirit wear head to toe during the day. That's something we pride ourselves in at Mayo, and if we get even more people on board, it'll be that much more fun." Mason Madsen says, The Homecoming pepfest will consist of announcing the Homecoming king and queen, but before that, the fall dance team will perform a routine; we will have cheer-offs between classes, and the drum line will perform. 
Before the game, the parade will begin at the fairgrounds at 4:00 pm; then tailgating takes place after the parade at 5:30 pm. 
"If you want to be on a parade float the tailgating float is in need of students to join. Also new this year the John Marshall Rockets and the Spartans will be joint-tailgating, so we're hoping it is a positive experience; it should make it more fun. The more the merrier, so show up to tailgating!" Tailgating Captain Mason Madsen says. 
We're hoping this Homecoming will be amazing and memorable for everyone! Don't forget to dress up in your best Spartan gear and go to the pepfest to make it the best experience yet! Happy Homecoming Spartans!