Bella Voce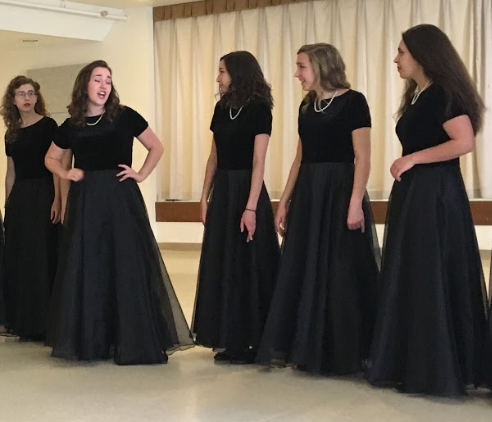 Singing with grace, beauty, and the power to move others is part of the magic only the Bella women from Sing Out Loud can do. Many woman who attend Mayo High School are a part of Bella Voce, one of three choirs encompassed in the Sing Out Loud program. Sing Out Loud is all about empowering young women through song. This year alone there were seventy-four women in Bella Voce and one-hundred and sixty women in the program as a whole. Sing Out Loud offers an in depth study of music and its origins as well as the chance to learn advanced vocal techniques.
Bella Voce sings three concerts in the winter and two in the spring each filled with songs that fit into a theme. This year, in the spring, Bella Voce women poured themselves into songs in a variety of different languages and learned about different cultures and peoples. Bella offers an eye opening experience to learn and grow as a singer with others who share the same passion.
This year's graduating class from Bella includes twenty-three Bella women, many of which have been in the program for years. Quite a few of them have chosen to go into careers involving music because of the incredible experience in the Sing Out Loud program. Auditions for Bella are open to women of all ages. Women in grades one through five can try out to be in the Bellettes Choir. Women in middle school can audition to sing in Bella Fiore and girls who are in high school participate Bella Voce. Auditions are open around the end of the school year in April, May, and into the summer as well as after the winter semester if people want to join for the spring concert. To sign up for an audition slot go to the Sing Out Loud website. The website  also provides the contact information for the Bellettes and Bella Voce choirs director Shelly Winemiller and the director of Bella Fiore, Stephanie Nolting. Practice times depend on the choir but Bella Voce practices are every Sunday from six to eight-thirty at night.
Next year, during the summer of 2019, the Bella Voce women are going on their annual trip abroad for outreach. They will be traveling to Greece to spread their song across the Atlantic. For ten days Bella women will sing and explore Greece and the surrounding islands. Every four years Bella Voce goes on an outreach trip such as this but there are also many opportunities that allow Bella girls to be active members in their local community.
Joining Bella it is like being welcomed into a whole new family. Together they travel, practice, go on retreats, sing in concerts, and spend time together as sisters.