Mayo Volleyball
Hang on for a minute...we're trying to find some more stories you might like.
The volleyball team is a fall sport played here at Mayo High School. Divided into 5 individual teams, which go by grade level for the most part unless skill level determines otherwise, the teams that we offer are 9th grade (A and B squad), b-squad, junior varsity and varsity. Every year this program takes in around 60 girls, and by the end of the season many teammates consider each other family. Our 9th grade team consists of 7th-9th grade girls. Many of these girls are trying out volleyball for the first time. Louis Daley is the coach for the 9th grade teams, and unfortunately it is her last year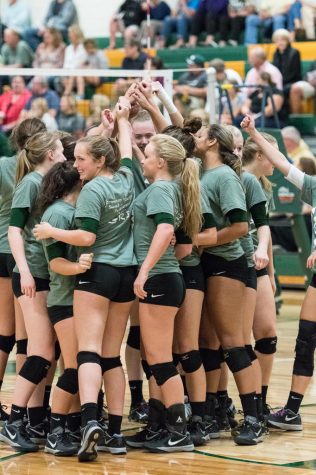 coaching for this program. Mayo's b-squad team is coached by Darcy Meyers, who is in her 2nd year of coaching for the high school. The junior varsity is coached by Emily Ellson, but is assisted by Bekah Fitzgerald who volunteers for the Spartans. Junior Varsity consists of girls in grades 9th-11th. Many of the girls on JV play and/or sit for the Varsity team. The Varsity team is new this year, as a lot of starting seniors graduated last year.  The girls are learning how to work together as a team and cooperate many team bonding exercises into practice everyday. The past three years our varsity team has attended state. Senior, Kiarra Harden said, "state was one of the best experiences of volleyball; it was great team bonding and we finally felt all of our hard work pay off." Head coach Deb Frederick has been coaching in the Spartan program for over 20 years. She has led her team to many victories and has created a bond unlike many other sports.
Also, this year the girls had a brand new gym floor to play on, which was awesome and well-waited-for, due to the fact that the first month of practice was held at a different location. This year the girls unfortunately didn't make it to the state tournament; however, they worked hard for their goal together on and off the court.The girls ended up with a winning record of 21-8, making it to the second round of sections unfortunately losing to Lakeville North. The team lost nine seniors, which is a huge amount of spots to be filled for next year. Good luck to the Mayo Girl Spartan Volleyball program as they compete next year and hopefully lead themselves to many new victories.