Did I make the right choice? Confessions of a foreign exchange student
Hang on for a minute...we're trying to find some more stories you might like.
Many questions come to mind when considering to spend a year in a foreign country. Am I doing the right thing? Will I have problems with the language? However, the biggest questions in my head was "Will I get homesick, and can I do this?"
When I arrived at the end of August 2016, I was very homesick and had the typical "culture shock" that every exchange student is told to prepare for, yet I remained positive, working through my anxiety. Now I'm so happy that I am here. After a few weeks, it felt a bit like home.   
Before we left Europe, we had many meetings to prepare us for the "culture shock," The program directors said it would be normal to struggle with the language and customs, but still I felt like I was the only one who would have a problem. I asked Chiara Cerroni, a foreign exchange student from Italy about her experience. She also had problems adjusting in the beginning; she confided in me that she didn't know if she could do a whole year in the United States, but she decided to live this year as well as she could. Now, she is very happy to be here and a part of this community.
As foreign exchange students, we have the chance to live in a new life with a new family, new friends, and a new language, so we are making the most of this opportunity. We only have ten months to stay here. That's why we have to collect as many good memories as we can. For example, I knew that I had to get involved in activities if I wanted to experience things to their fullest, so I went out for the cross country team. I had never run in a competition or on a team before, so I did not know what to expect. I was pleasantly surprised to discover how friendly and welcoming everyone was. Olivia Truesdale and many others accepted me immediately; through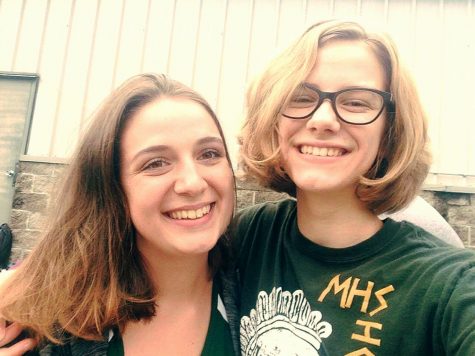 our hard work together, we became friends, and I developed a true passion for the sport. When the season came to an end, it was a little sad, but my friends and I are on to new adventures and challenges.
If you are interested in new discoveries and opportunities, and you should consider going on an exchange year. Although you will understand how hard it is to live without your friends and family, the whole world will unfold before you. Prior to my arrival, I did not expect it to be difficult to have so many new things happen in my life, but I was completely wrong! It is hard. However, in the end, I can say that I am very happy I made the choice to be a part of this school and a part of the Cross Country Team. I am thankful for the people on my team and across the Rochester who have supported me and helped me adjust to my new life!
I'm proud to call myself a "Spartan."